Ripple Island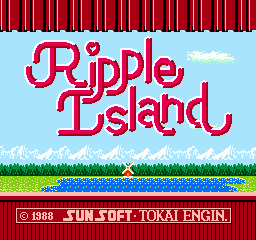 Download patch (v1.00)
The tiny isle of Ripple Island was once a peaceful and abundant land. But since the evil Groaker appeared, kidnapped Princess Nasarell, and proclaimed himself the Emperor of Darkness, black magic has begun to destroy the island's natural environment. Seeking to end this conflict and claim the reward promised by the good King Dotella, a young boy sets out on a journey to Groaker's stronghold north of the island...
Ripple Island is a 1988 Famicom adventure game developed by Tokai Engineering and published by Sunsoft. It's a significant departure from the murder mystery and detective adventure games that dominated the Japanese market at the time, instead focusing on gentle themes, colorful graphics, and a fairy tale storyline.
See the readme included in the download for more information.
Credits
Supper -- Hacking
TheMajinZenki -- Translation
cccmar -- Editing & Testing