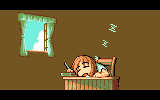 Today, stargood.org celebrates another year in operation. And by "celebrates", I mean "I moved all the news posts to the newly paginated Old News section".
The year in review: lots of translations, lots of stuff I never expected to happen in a million years, much less one. Multiple people came out of the blue asking to work on projects I thought were dead forever! Chou Soujuu Mecha MG got translated! The Moldorian manual got scanslated! I've somehow hacked over half the Madou Monogatari series* into English! After a year like this, I have no right to complain about anything ever again (but assuredly will anyway).
Thanks to TheMajinZenki, cccmar, Xanathis, Oddeye, Filler, Tom, Phantom, Novyal, Misty de Meo, Delta, tbpbird, and everyone else I've worked with for another year of making the improbable happen. And sorry to everyone that I kept waiting on this or that for weeks... or months... Some days are better than others. As are some months.
* If you count loosely enough. Seriously, the porting situation for this series is absolutely nuts.